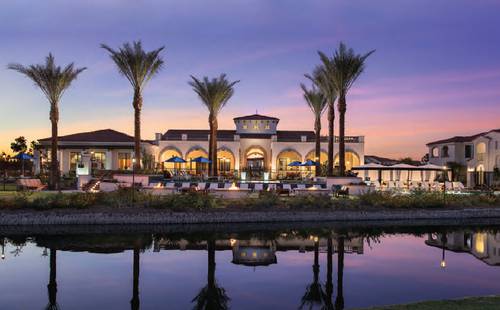 Almeria
PASSCO
Passco Almeria is an investment into a Class A multifamily apartment complex located in Chandler, Arizona. The property has a total of 389 units and was built in 2015. The property is part of a master planned community that will feature a golf course, retail, and leisurely amenities.
Investment Highlights
Yr. 1 Cash-on-Cash

5.00%

Initial Occupancy

91.77%

Est. Time Horizon

None YEARS

Current Cash Flow
Yr. 1 Cap Rate to Investor

4.51%

Investor Purchase Price

$90,125,000

Total Offering Size

$42,875,000
Loan Information
The loan totals $47,250,000 and is from KeyBank National Association under the Fannie Mae DUS program. The loan is for a term of 10 years with the first 5 years being interest only. When amortization begins in year 6 it is based on a 30 year amortization. The interest rate is fixed at a rate of 3.44%.
Yr. 1 DSCR

2.41

Loan-to-Offering

52.43%
Tenant Information & Lease Terms
Leases are signed on an individual basis at multifamily properties. The property manager will negotiate terms on a case by case basis. Leases are generally signed on a 12 month basis however this may differ for each tenant.
Key Positives
Passco is using conservative underwriting assumptions as far as NOI growth at the property. They are projecting their NOI to only increase 1% above the trailing 3 months that were achieved at the property.

The property is in a prime location. The master planned community is only 10 minutes from downtown Chandler. They have a golf course, retail center, commercial and industrial centers, a manmade lake, and high end single family housing as part of the community.
Key Risks to Consider
The Phoenix-Chandler area has the ability to be further developed and a competitive property can be built in close proximity to the subject property. This could hurt occupancy and rental rates in the area.

The cap rate to investors is very low (4.51%), especially for the Phoenix area.
Investment Sponsor Information
PASSCO
According to the sponsor's website: "Since 1998, Passco Companies, LLC has operated throughout all market conditions and cycles. The company has acquired over $4 billion in multifamily and commercial real estate in the United States. Since its inception, Passco Companies has become a recognized provider of investment opportunities in real estate projects.
Passco Companies is directed by a team of dedicated senior real estate professionals whose experience in the business averages 34 years, and who, collectively, have acquired over $30 billion in investment real estate projects."