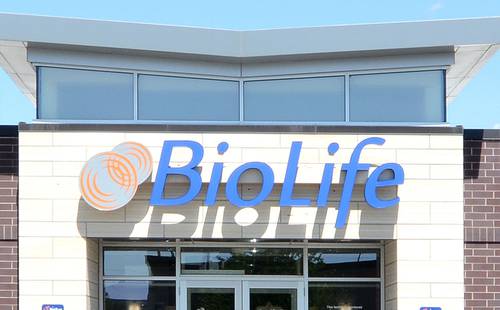 BIO - HC1
Livingston Street Capital
This is the maiden offering from a new sponsor, Livingston Street Capital, and contains two single tenant net-lease medical retail properties. The properties, located in Hayden, Idaho and Layton, Utah, are leased to Bio-Life, which specializes in plasma collection for plasma based therapies.
Investment Highlights
Yr. 1 Cash-on-Cash

5.75%

Initial Occupancy

100.00%

Est. Time Horizon

None YEARS

Current Cash Flow
Yr. 1 Cap Rate to Investor

6.35%

Investor Purchase Price

$12,890,000

Total Offering Size

$5,010,000
Loan Information
The loan is non-recourse and has a 10-year term. Its maturity date is September 1st, 2027 and its interest rate is fixed at 4.75%. In the period between September 1st, 2026 through September 1st, 2027, a cash sweep applies such that surplus proceeds are applied to any loan balance left outstanding.
Yr. 1 DSCR

2.18

Loan-to-Offering

61.13%
Tenant Information & Lease Terms
"Both locations are leased to Bio Life Plasma Services.

Idaho: Lease expires 02/2030
Utah: Lease expires 06/2030.

Both leases are modified net-lease and have three 5-year options to renew. The leases are guaranteed by Baxalta Inc., which carries a Baa3 credit rating.

Tenant: Bio-Life is a corporation that collects high quality plasma that is processed into life-saving plasma-based therapies. Bio-Life operates and maintains more than 80 plasma collection facilities in 24 states throughout the U.S. and seven locations in Austria. They are a wholly-owned subsidiary of the guarantor, a global biopharmaceutical company, which focuses on developing, manufacturing therapies for orphan diseases and conditions in hematology, oncology and immunology.

According to the Utah Lease the landlord is required to make repairs to the roof, and all parking areas, driveways, roads and sidewalks located both within and outside of the Utah Property. "
Key Positives
Both properties are well located in areas which exhibit strong population growth projections.

Bio-Life has investment-grade financial metrics and has Baxalta, also with investment-grade financials, as guarantor on both leases.
Key Risks to Consider
This offering has a low 10-year average debt service coverage ratio of 1.67. Potential mitigant: The tenants have net-leases with investment grade guarantors backing both leases.

The sponsor for this offering has chosen not to use a master lease. This could potentially hinder the trust if the tenant ceases operations at either property. Both leases allow their tenants to terminate operations, however even if that occurs Bio-Life still will be obligated to make their lease payments. A noteworthy risk would be when the sponsor is trying to sell the properties and either one, or both, properties are lacking a tenant. Under these circumstances the inability to re-tenant could limit the trust's ability to receive a full return of capital and to make profit on the property's final sale.

The syndication costs a high for an offering utilizing leverage.

There is a cash sweep in the last year of the loan term.

According to the terms of the lease for the Utah property, its landlord is responsible for any needed repairs on the roof, all driveways, parking areas, sidewalks, and roads located on the property. The property condition report projects that such repairs and replacements should cost $28,000. Upfront reserves for this offering are $30,000.

The sponsor has committed to take $71,000 from first year cash flow and must pay $8,000 into reserves annually. The sponsor is using the $71,000 to even out cash distributions during the hold period, but using yearly additions paid in to reserves, the trust expects there to be an additional $80,000 available for use at the properties.
Investment Sponsor Information
Livingston Street Capital
According to the sponsor's website: "Livingston Street Capital, LLC is a fully integrated boutique real estate-focused investment firm led by a highly experienced team of professionals. Collectively our leadership team has led more than $20 billion of commercial real estate transactions and bring more than 75 years of experience to each investment.
We focus on what we consider essential versus discretionary investing, and therefore we currently acquire multifamily, healthcare and mission critical properties. We believe our investment philosophy is the best approach to protecting and enhancing invested capital.
We have a highly flexible business model that is free from bureaucracy, and is therefore well positioned to react to market opportunities."