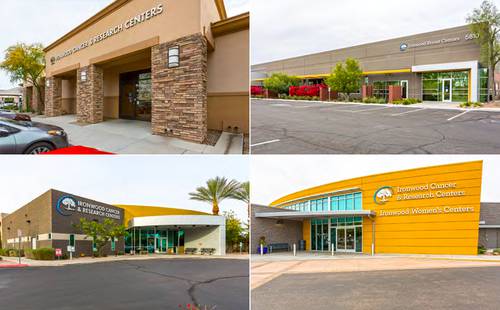 Arizona Healthcare Portfolio 2
Inland
The offering includes eight medical offices in Phoenix MSA with all cash financing. The tenant occupies all of the buildings.
Investment Highlights
Yr. 1 Cash-on-Cash

5.00%

Initial Occupancy

100.00%

Est. Time Horizon

None YEARS

Current Cash Flow

5.00%
Yr. 1 Cap Rate to Investor

5.13%

Investor Purchase Price

$84,327,253

Total Offering Size

$84,327,253
Loan Information
N/A
Yr. 1 DSCR

None

Loan-to-Offering

0.00%
Tenant Information & Lease Terms
Ironwood Cancer and Research Center is one of the largest cancer treatment centers in the Phoenix area: 19 locations, over 600 employees and 70 physicians. Ironwood has a competitive advantage by conducting joint clinical practice and research operations. This provides their patients the opportunity to participate in new treatment clinical trials. The therapies and services that Ironwood offers include medical oncology, radiation oncology, breast surgery, radiology, and urology.

The lease, which will be finalized on the day of acquisition, will be set for 15 years, and include the option of three 5-year extensions.
Key Positives
Strong regional population growth will increase the need for health services.

All cash financing eliminates risk of lender foreclosure.
Key Risks to Consider
The tenant is in a vulnerable position with very weak financials.

Cap Rate is relatively low: 5.13%
Investment Sponsor Information
Inland
The Inland Real Estate Group of Companies, Inc. ("Inland"), is an industry leader and one of the nation's largest commercial real estate and finance organizations. As a business incubator, we specialize in creating, developing and supporting Inland member companies that provide commercial real estate-related services and alternative investment funds, including limited partnerships, institutional funds and non-listed and listed REITs.