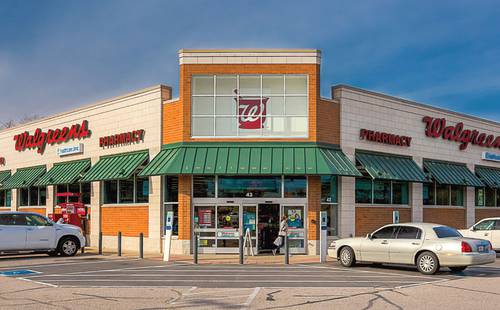 CF Net Lease Portfolio 7
Cantor Fitzgerald
This offering contains 19 single-tenant net-leased retail properties. The properties were purchased as a sale leaseback. This offering is structured with two DSTs.
Investment Highlights
Yr. 1 Cash-on-Cash

6.50%

Initial Occupancy

100.00%

Est. Time Horizon

10 years YEARS

Current Cash Flow
Yr. 1 Cap Rate to Investor

5.59%

Investor Purchase Price

$108,277,975

Total Offering Size

$45,322,000
Loan Information
"Each DST has its own loan that are not cross-collateralized. The loans have 15-year terms, with fixed interest at 4.59%. After December, 2026 the interest rate increases to either 3% plus the prior interest rate or the 10-year swap yield. The loans are IO until this point.

There are cash sweep provisions for both loans: if DSCR drops below 1.55, if loan isn't repaid before September 2026, if Walgreens no longer operates over 25% in either trust, the credit rating drops below BB- or Ba3, or if Walgreens files for bankruptcy."
Yr. 1 DSCR

2.06

Loan-to-Offering

58.14%
Tenant Information & Lease Terms
"Walgreens is one of the largest pharmacy retail chains in the U.S. Recently Walgreens merged with Boots Alliance. Currently WBA has over 13,000 stores across more than 25 countries. WBA intends to buy out Rite Aid which would give WBA 12,800 U.S locations. Currently WBA and Walgreens Co. has a BBB from S&P with a negative outlook and a Baa2 from Moody's as of 2015.

The initial term for the leases is 15 years which commenced on November 15, 2016 and expires on November 30, 2031. The leases will automatically renew for 12 consecutive 5-year periods, unless Walgreens notifies the applicable Trust in writing prior to the commencement of anysuch renewal term. Walgreens pays fixed base rent for the first 5 years of each lease, with a 5% increase in year 6. Commencing in lease year 36 and every 5 years thereafter, base rent will be set at fair market value rent. Walgreens has a right of first refusal to purchase any of the properties on the same terms and conditions as a bona fide third party offer."
Key Positives
This investment offers geographic diversification.

Each lease has 14.8 years remaining.

Walgreens is an investment grade corporation.

Leases have twelve five-year options for renewal, including 5% rent increases.
Key Risks to Consider
At time of sale the price of each, or all of the properties may have significantly declined, since the amount of time left on each lease term will be less than ten years.

There is no guarantee that any of the tenants will renew the lease after the initial term.

The Walgreens Boots Alliance merger and planned Rite Aid acquisition may require WBA to close approximately 3,000 stores. Should Walgreens cease operations at more than 25% of the properties in either trust, a cash sweep event occurs, given terms set forth in the loan, but in such an event Walgreens would still be required to make lease payments.

There may also be a full cash sweep should Walgreen's Moody's rating fall below Ba3 or should its S&P rating fall below BB-.

Moody's rating is being reviewed, though Moody's anticipates that it is likely the rating will be downgraded to Baa3. This would not cause a full cash sweep.

The final five years of the debt are hyper amortizing. For investors who rely on cash distributions, this cash sweep may be contrary to their objectives.

Investors may be required to file state tax returns for multiple states.

10 properties have populations below 50,000 in a 5-mile area surrounding the properties respectively.

One of the lender's affiliates is Cantor Fitzgerald. So although appraisals were performed for the lender, they were not completed at arms length.
Investment Sponsor Information
Cantor Fitzgerald
According to the sponsor's website: "Cantor Fitzgerald is a leading global financial services firm, serving clients from over 30 offices around the world. Founded in 1945 as a securities brokerage and investment bank, the firm pioneered computer-based bond trading, built one of the broadest distribution networks in the industry and became the market's premier dealer of government securities.
Today, Cantor Fitzgerald is known for its strength across a diverse array of businesses, including equity and fixed income capital markets, investment banking, commercial real estate finance and services, prime brokerage, asset management and wealth management, and e-commerce and online ventures. In all its businesses, the firm is an acknowledged leader in developing advanced technologies to expand market access, and help clients achieve their most important financial and strategic objectives. This commitment to client-centered innovation has led to enduring relationships with many of the world's most demanding institutional investors and corporations."