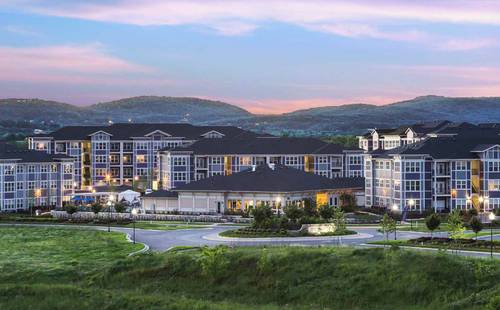 BR Jefferson Place
Bluerock
Jefferson Place is a recently built garden style apartment in the Frederick country submarket of the Washington Metro area. Built in 2017, the property is made up 228 units and a total of 228,619 sq/ft of rentable space that has top of the line amenities. The sponsor is planning minor value-add improvement opportunities. The property is leased at 96.5% occupancy. Jefferson Place is built next to the forthcoming Jefferson Technology Park which will include retail and office space as well as a hotel. Frederick County is the northern post of an expanding corridor known as the "DNA Alley," which connects it with Washington, D.C.
Investment Highlights
Yr. 1 Cash-on-Cash

5.22%

Initial Occupancy

96.50%

Est. Time Horizon

None YEARS

Current Cash Flow
Yr. 1 Cap Rate to Investor

5.07%

Investor Purchase Price

$62,901,952

Total Offering Size

$26,269,952
Loan Information
The loan is on a 10-year 4.69% fixed interest rate term. It is interest-only for 7 years on a 30-year amortization scheduled.

The loan is set to mature on 9/1/2028; there is an end of the term payment. For the first seven years of the term, there is a prepayment penalty, which is a yield maintenance that has a floor of one percent. After the first 7 years, there free is a one percent prepayment penalty. No penalty will be incurred within 90-days loan maturity.
Yr. 1 DSCR

1.81

Loan-to-Offering

58.24%
Tenant Information & Lease Terms
The property will be leased to a "Master Tenant," BR Jefferson Place Leaseco LLC, who is an affiliate of the trust, which will allow operational management that the trust would otherwise be restricted from due to specific tax laws. The Master Tenant will sub-lease the property to the residential tenants. The on-site management team will be a third-party nationally recognized management company. They will implement a lease management system which will plan out monthly lease expirations to approximately 10%.
Key Positives
Projections for population increase and median income in the 1 to 5-mile radius look promising.

The area has a strong employment mix of government, healthcare, and education.

Fewer capital improvements and upkeep will be required from this new class A property with great amenities.

The proximity to the forthcoming mixed-use Jefferson Technology Park will create added appeal and exposure for the property.

Moderate demand for up-front cost.
Key Risks to Consider
A low cap rate.

A moderate to high Loan to Value ratio.

As a newly built class A complex, there are few value-add opportunities. Rent increases will depend on organic market growth.

The slim margin between the economic occupancy and the projected occupancy, which indicates aggressive underwriting.

Historically, the Fredrick market's demand has not met the supply for the class A apartment market. (*The year and a half have shown signs of this changing with 600 units being tenanted while only 300 are being developed.)

The analysis is incomplete; Due diligence is still underway.

The adjoining Jefferson Technology Park construction has not seen recent activity. A website article posted that the office and retail tenant mix may now also include warehouse and distribution to balance out concerns about store-front retail's competition to online retail. Zoning and legistlation have been the main hold-up for the Jefferson Technology Park.

The risk of unknown tax liabilities due to a taxation reassessment scheduled for 2023. (*A reserve for $958,087 is being set aside.)
Investment Sponsor Information
Bluerock
According to the sponsor's website: "Bluerock is a national real estate investment firm headquartered in Manhattan with regional offices in Southfield, Michigan, Boise, Idaho and Newport Beach, California. Bluerock is a leading private equity real estate asset manager with a focus on Core-Plus, Value-Add, Opportunistic and Development investment strategies, and has transacted over 9 million square feet of residential and commercial real estate acquisitions since its inception in 2002. Bluerock's key principals have an average of 25 years investing experience, have been involved with acquiring over 30 million square feet of real estate with approximately $10 billion in value, and have helped launch leading real estate private and public company platforms."