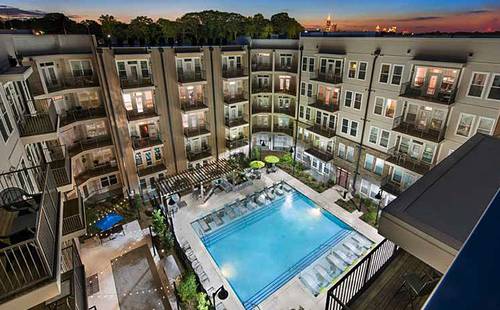 BR Glenwood
Bluerock
This investment contains a single, 216 Class-A multifamily apartment property in Atlanta, Georgia.
Investment Highlights
Yr. 1 Cash-on-Cash

5.14%

Initial Occupancy

89.80%

Est. Time Horizon

None YEARS

Current Cash Flow
Yr. 1 Cap Rate to Investor

4.91%

Investor Purchase Price

$55,403,834

Total Offering Size

$22,741,834
Loan Information
This offering uses non-recourse debt with a 10-year term, interest only for the first 5-years, 30-year amortization, and has a fixed interest rate at 4.21%.
Yr. 1 DSCR

1.94

Loan-to-Offering

58.95%
Tenant Information & Lease Terms
The property is in lease-up currently and generally leases units to tenants on a 12 month basis.
Key Positives
Atlanta has seen a growth in population, jobs, and incomes in recent years.

Property has good access to downtown Atlanta and is approximately 2 miles east of the CBD. Population growth for the area is projected to be strong over the next 5 years.

Property has below market rents for all unit types. Rents are 4.3% below market average.
Key Risks to Consider
Newer, competing properties may enter the market which may affect occupancy and/or rent growth.

This offering has a low cap rate of 4.90%. Cap rates have been compressing and with interest rates set to go up we may see cap rate compression going forward. This may hinder the ability to sell profitably.

The year-1 projections for EGR and NOI are 34% and 52% above the trailing-12 numbers. The property is in lease-up currently, but may struggle to meet these projections.
Investment Sponsor Information
Bluerock
According to the sponsor's website: "Bluerock is a national real estate investment firm headquartered in Manhattan with regional offices in Southfield, Michigan, Boise, Idaho and Newport Beach, California. Bluerock is a leading private equity real estate asset manager with a focus on Core-Plus, Value-Add, Opportunistic and Development investment strategies, and has transacted over 9 million square feet of residential and commercial real estate acquisitions since its inception in 2002. Bluerock's key principals have an average of 25 years investing experience, have been involved with acquiring over 30 million square feet of real estate with approximately $10 billion in value, and have helped launch leading real estate private and public company platforms."